Two Years of Flagler County Growth in Pictures from Google Earth
Satellite images, 25 months apart, tell the story of our area's recovery from its role as poster child of the housing bubble. Google Earth gives a perspective we are unable to appreciate otherwise.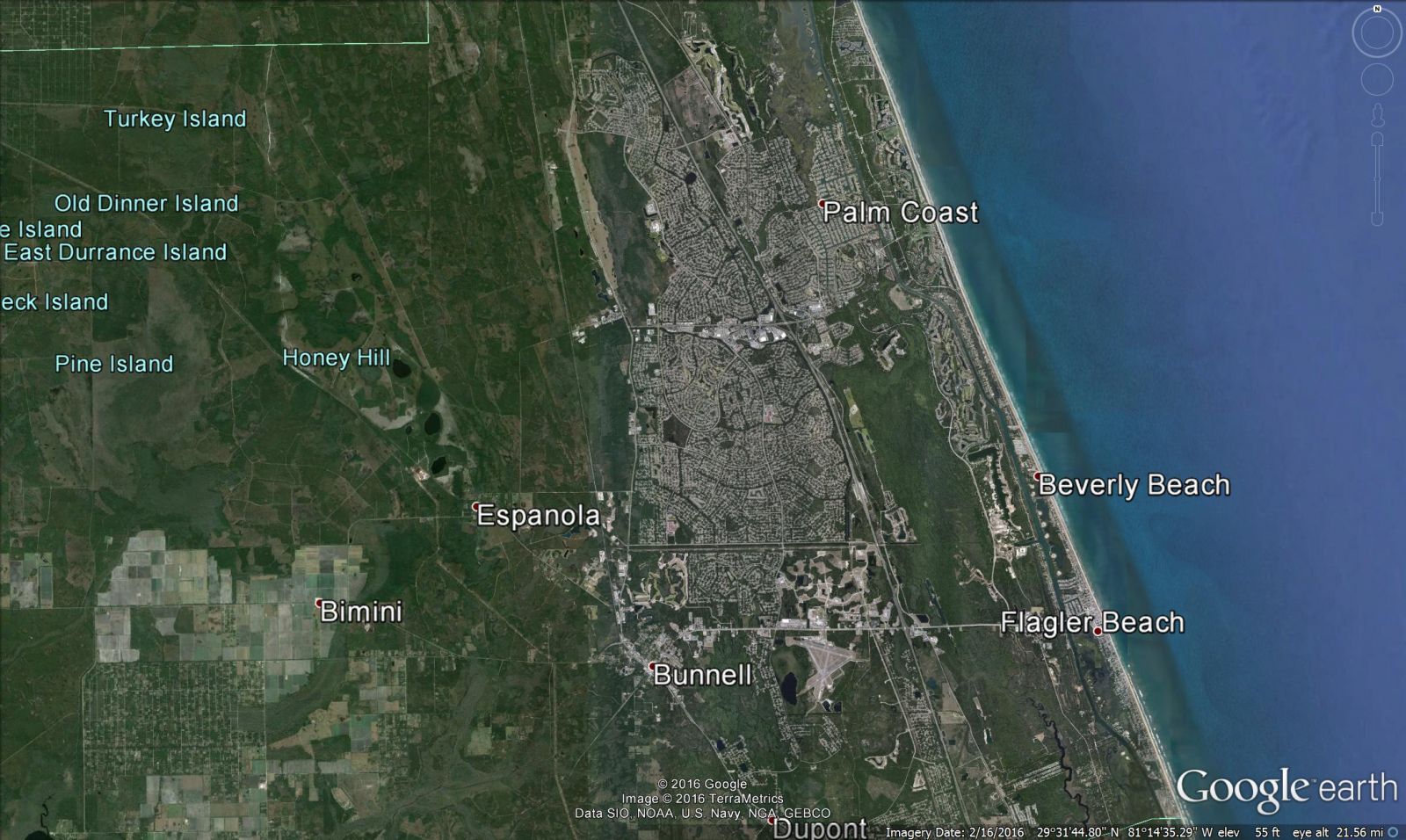 PALM COAST, FL – May 9, 2016 – We've come a long way, Baby. Satellite images, 25 months apart (January 2014 to February 2016), tell the story of our area's recovery from its role as poster child of the housing bubble. Google Earth gives a perspective we are unable to appreciate from ground level.
For two years running, Flagler County and Palm Coast held respective bragging rights as Fastest Growing County and Fastest Growing City in the country. Then the music stopped and all the chairs were gone. Flagler County began to draw attention for different reasons.
Flagler had the highest unemployment rate among all Florida counties, reaching a high of 15.2%.
The median price for homes sold in the county dropped 59.2% between 2005 and 2011.
Distressed homes (short sales and foreclosures) accounted for more than half of all county home sales in years 2009 through 2011.
There were more building permits issued for single-family homes in the county during 2005 than in the next eight years combined.
Since 2012, and particularly during the last two years, Flagler has been coming back. Non-distressed sales again rule the market, representing fully 90.9% of sales volume in March 2016. Short sales are a non-factor.
Google Earth has become an indispensable tool for me. Every couple of years, Google Earth updates its satellite images of our area; always during the time of year when there are the fewest leaves on the trees. Fewer leaves means better views of buildings, streets, etc. Google's most recent visual upload was captured on February 15, 2016. The previous upload was captured on January 15, 2014.
One powerful Google Earth feature allows me to capture views from a certain angle, then switch to different imagery dates. Significant changes that occurred during the intervening period become very noticeable. While driving, bicycling or walking around town, we have noticed infrastructure work as well as commercial and residential construction. But the view from above is more dramatic. Let's take a look at some of our area's major changes over the past 25 months.
Road Construction
Widening Palm Coast Pkwy to six lanes between Boulder Rock Drive and Florida Park Drive was not a project that escaped anybody's attention.
Palm Coast Pkwy in January 2014
Roadwork complete – February 2016
Palm Coast Pkwy East – January 2014
Palm Coast Pkwy East – February 2016
Palm Coast Pkwy West – January 2014
Palm Coast Pkwy West – February 2016
Opening up Palm Coast's north side with three separate projects.
Old Kings Rd extension is being extended to Matanzas Woods Pkwy. Palm Harbor Pkwy has been extended to Old Kings Rd North at Matanzas Woods Pkwy. Interstate 95 has a new interchange, Exit 93, at Matanzas Woods Pkwy.
January 2014, before construction
Nearly done in February 2016. In fact, the interchange and Palm Harbor extension are now open.
The southern gateway into Town Center was planned to be Bulldog Drive, next to Flagler Palm Coast High School. The Great Recession and some legal speedbumps gaining rights of way through eminant domain delayed the Bulldog Drive upgrade until recently. The impending construction of Palm Coast's new City Hall helped move things along.
Bulldog Drive in January 2014
Bulldog Drive in February 2016
Palm Coast finally has its new City Hall.
Central Park in Town Center in January 2014
Central Park in February 2016 shows the new Palm Coast City Hall
Residential Construction
Several residential projects were suspended or abandoned when the market went bust. Some have been revived under their original plan. Others have been reborn under a different vision. They include:
Sunset Inlet has been redeveloped by the Emerald Homes, part of DR Horton, and marketed by Jim Cullis's Grand Haven Realty. Sunset Inlet is located on A1A in Beverly Beach, just north of Flagler Beach. It's yards from the Atlantic Ocean and offers boat docks with access to the Intracoastal Waterway.
Sunset Inlet January 2014
Sunset Inlet February 2016
Beach Haven is located on the west side of Scenic A1A a short distance from Marineland at the north end of the county. The original Beach Haven vision was revived. The primary builders are Landon Homes and Generation Homes.
Beach Haven January 2014
Beach Haven February 2016
Hidden Lakes has witnessed the most prolific surge in construction. Hidden Lakes is on the east side of Old Kings Road, north of the Town Center Blvd northeast entrance into Town Center. Homes have been built by DR Horton and Paytas Homes. Paytas is currently the primary builder.
A couple of new projects have sprung up too. DR Horton is building Country Club Cove, a community of single-family homes surrounded by Palm Harbor Golf Course.
Before Country Club Cove in 2014
Country Club Cove in 2016
Flagler County's most productive locally grown builder is Seagate Homes. Seagate has recently begun marketing and building in Park Place, a new master-planned community off Pine Grove Dr. Both Seagate and Holiday Builders are building there.
Before Park Place in January 2014
Park Place in February 2016
Landmar, developer of Grand Haven began work on an ambitious master-planned fly-in community south of the Flagler County Airport. The recession intervened, precipitation Landmar's bankruptcy. The project, no longer planned as a fly-in, is back on track.
Grand Landings in January 2014
Grand Landings in February 2016
Plantation Bay is an ICI-developed golfing community at the south border of Flagler County. The community is expanding again.
Plantation Bay (south end) January 2014
Plantation Bay (south end) February 2016
All residential construction is not single-family. A multi-family project came out of the ground in Town Center recently; an age restricted (55 or over) apartment complex. Two years ago, there was woods. Now there is Palm Coast Landing, Senior Living
Undeveloped in 2014
Palm Coast Landing, Senior Living – completed and occupied in 2016
Commercial Construction
Town Center is gradually getting traction. Two new buildings have risen at the west (Belle Terre) entrance to Town Center; a dental office and a Dollar format store.
January 2014
February 2016
Island Walk
The most important commercial development project is Island Walk. Forget about the "island" name. It's not even surrounded by a swale, much less a body of water. What really counts is that this project is working. It's not even done and it's mostly occupied. Today shopping mall market is more than dormant. Malls in most parts of the country are dying out. Anchor tenants are leaving tired mall locations across the country. The malls futures are dim. Typically, following cosmetic changes, second or third level retailers are filling the space.
Palm Harbor Shopping Center epitomized the description of a "tired property." But the underlying strength of the Palm Coast market encouraged the anchor tenant, Publix, to commit to stay. With the exception of a few buildings that were reduced to the shell and totally rebuilt, Island Walk, including a new Publix, is brand new. The developer's total investment is estimated to be $40M. That's a lot of confidence in our future growth being expressed.
Palm Harbor Shopping Center in January 2014
Island Walk in February 2016
Island Walk Site Plan
These GoToby.com photo comparisons are not all inclusive. Look for more in the future.
https://gotoby.com/wp-content/uploads/2020/10/go-toby-logo.jpg
0
0
Toby Tobin
https://gotoby.com/wp-content/uploads/2020/10/go-toby-logo.jpg
Toby Tobin
2016-05-09 00:00:00
2021-03-19 13:30:06
Two Years of Flagler County Growth in Pictures from Google Earth